Nordnet in Society is our way to give back to society, and work for a more sustainable society.
We have defined three focus areas; sustainable savings & investments, diversity & equality and digital learning, and within these areas we run projects that will benefit the society, but also us as a company. The projects will generate value for savers, employees and society, while also adding value for our shareholders and while still trying to minimize our impact on the environment.
All our employees have the opportunity to run their own project within Nordnet in Society. The process starts with our employees submitting their initiative proposals to the Nordnet in Society Board, which consists of various members from the organisation. The Nordnet in the Society Board then evaluates the proposals and decides if they are to be implemented. The Board also manages the strategy and the budget.
Where the idea comes from
Our Nordnet in Society concept is based on Professor Michael Porter's theories of shared value, which, briefly, means that companies need to focus on delivering social benefit in a profitable way.
Reporting of Nordnet in Society
Each year, we prepare a report in accordance with the Global Reporting Initiative (GRI), the world's most widespread framework for sustainability reporting. The report is based on the Nordnet in Society framework but also on other areas which are essential to our business.
The report is based on GRI Standards: Core option. Click here for our latest sustainability report.
Volunteer work and financial support for kodcentrum
By supporting Kodcentrum, we help to develop the programmers of the future. This makes perfect sense to us, since we will always depend on skilled IT staff.
Together with Kodcentrum, Nordnet has organised kid hackathons and gathered kids between the ages of 9-13 to learn programming and digital creation. We were also volunteers at Stadshushacket, a hackathon that was organised for hundreds of fifth graders in Stockholm City Hall. During the fall of 2018, we will arrange our first teacher hackathon at our head office in Stockholm.
Membership in Norsif and Swesif
Nordnet is a member of the trade associations Norsif and Swesif. Norsif and Swesif are independent networking forums for sustainable investments. Swesif provides a tool called Hållbarhetsprofilen (Sustainability Profile) that allows fund savers to easily and accurately determine the specifics of how a particular fund works with sustainability criteria in its management. Hållbarhetsprofilen is one of the tools available at nordnet.se.
Programming together with Koodikerho
We collaborate with Koodikerho coding club in Finland and organise programming camps for children ages 9 and above. During the programming camps, children learn how to programme and code in a fun and informative environment. Together with Koodikerho, we can contribute to digital development and inspire children to discover digital creation, perhaps as a future career.
Careers
Carina Tovi
Chief Operations Officer
General & Press
Johan Tidestad
Head of Communications
Head office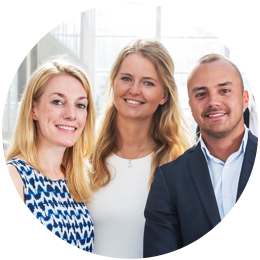 Nordnet AB (publ)
Alströmergatan 39
Box 30099, 104 25 Stockholm
+46 10 583 30 00
info@nordnet.se
Corp ID: 556249-1687